Coveted Forge
Regular price
Sale price
$5.99 USD
Unit price
per
Sale
Sold out
This beautiful 3D Printed miniature is suitable for any tabletop war gaming or RPG. The listed price is for a single 32mm or 75 mm scale.
We will happily provide custom scaled models if you would prefer another size - just send us a message for a price quote! If you would like a full custom printed army for wargaming please contact us. We will be happy to create a custom order for you and provide bulk pricing for all models which we have licenses to print.
We print exclusively:
-in high quality (8K) resin with tenacious additives to make the product more durable
-with meticulously, manual supporting to ensure smooth surfaces
-with thorough cleaning, and curing to ensure your produce is safe and ready for assembly, priming, and painting
Other Notes:
-Some models require assembly. Assembly is best done using superglue or epoxy glue. Please contact us for questions regarding specific models.
-While we do our best to remove all supports and residue before shipping, light cleaning may be required as well as removal of any minor supports that we missed. Supports can be removed using a hobby knife, tweezers, clippers, files, sandpaper, etc. Residue can be cleaned using soap and warm water.
-Some thin parts may be slightly bent. This can happen naturally in the first few days after curing. This can easily be reversed by dipping the bent part in hot (near boiling) water. The part will return by itself to its original shape and stay that way after cooling.
License:
We are licensed to sell physical prints of Kyoushuneko Miniatures
https://www.patreon.com/Kyoushuneko_Miniatures
Materials: Resin.
Share
View full details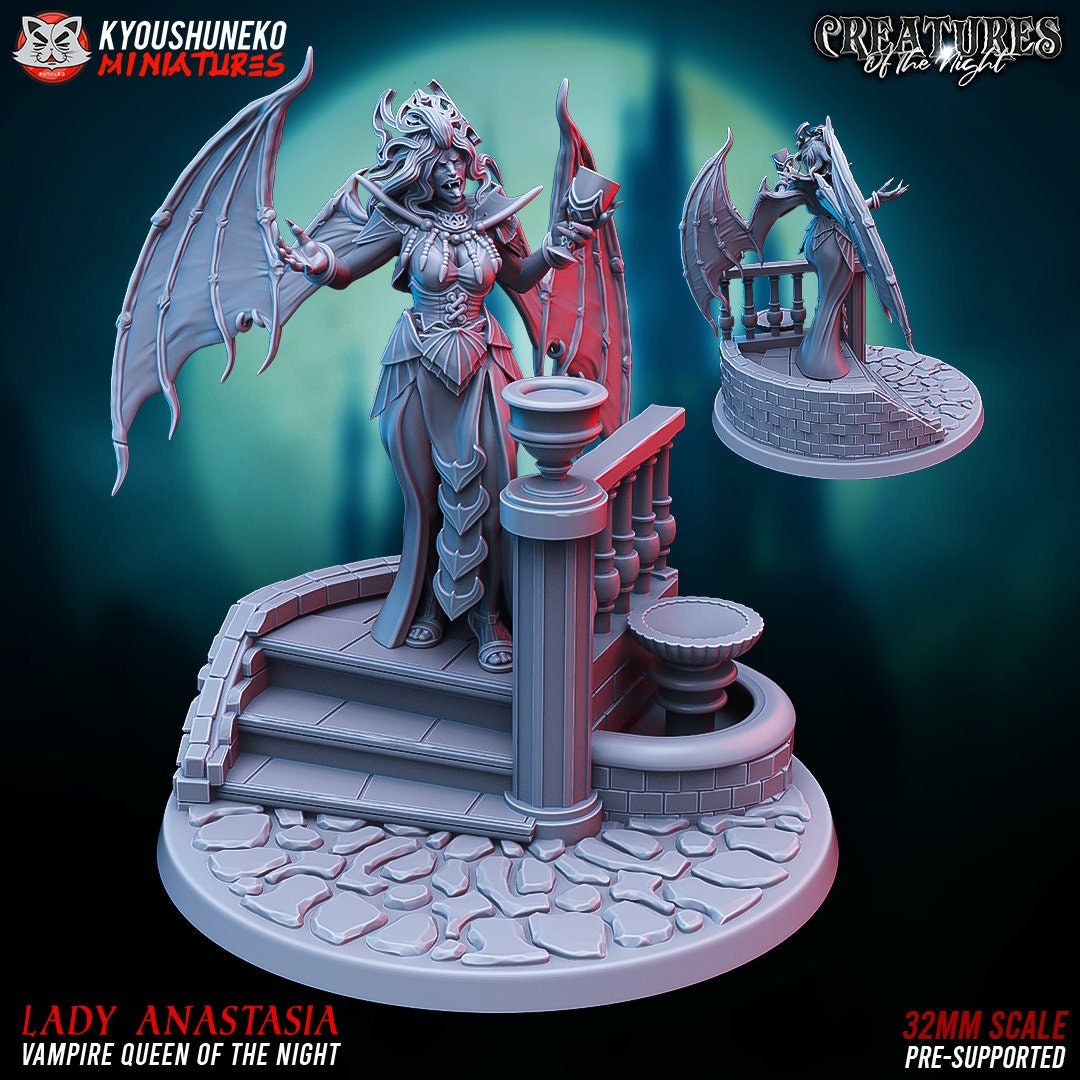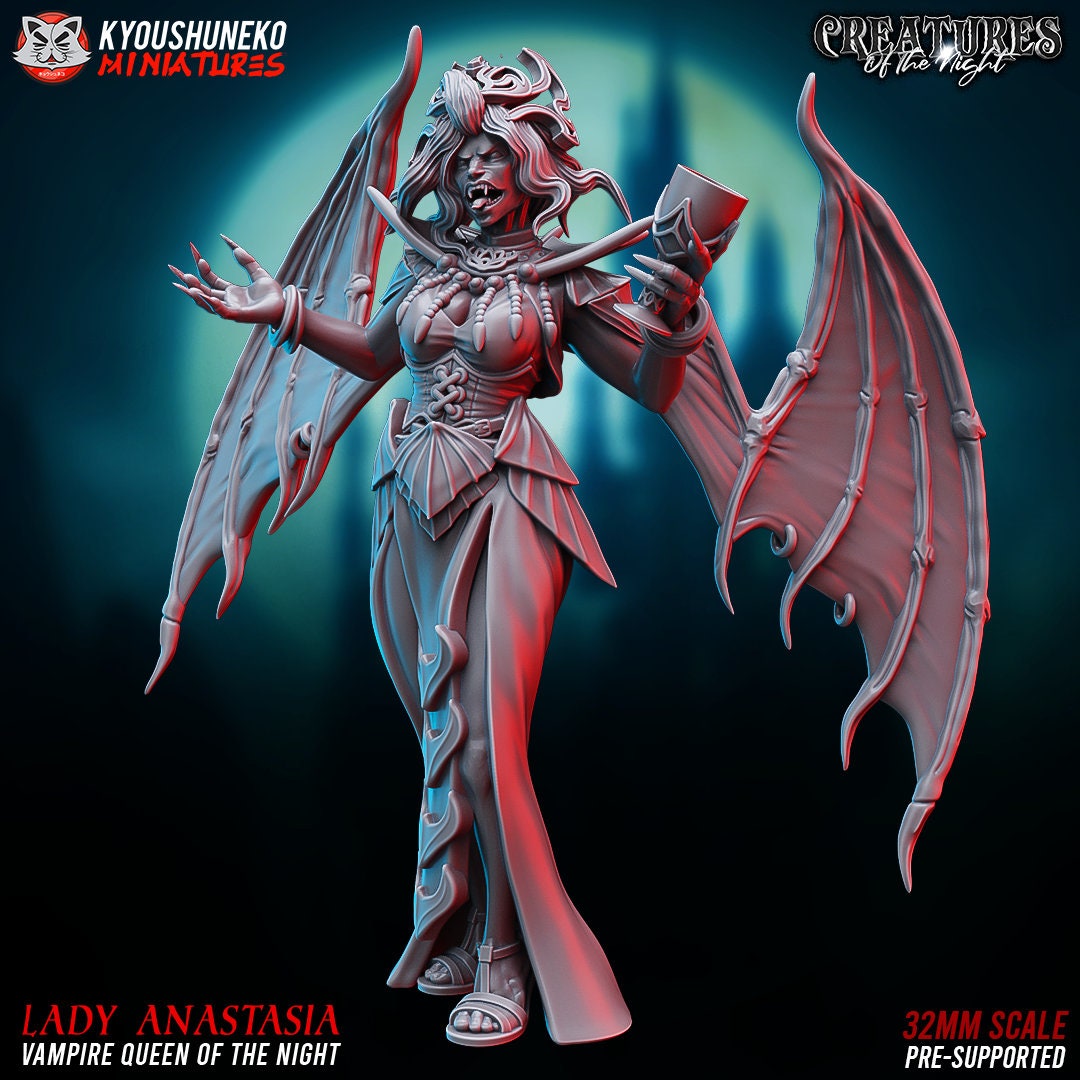 Seller was nice enough to send a broken w...
Seller was nice enough to send a broken winged extra of this scary gothic beauty. Very pleased with the figure. Will set her up in a diorama and set the others wing which snapped where it meets her back where it's thinnest so it's fixable. The shop was quick and generous.
The winged vampire woman figure is gothic...
The winged vampire woman figure is gothic grace and wonderful detail. I bought a larger version and got 2 smaller versions, I think the seller was being generous by sending the extra small one with a broken wing. I thought a smaller one might, by adapting it a bit, fit into my Van Helsing diorama. Though the seller tried to wrap them carefully the big one also had a wing break off in transit because the base of the wing, going into her back, was narrow and small. No matter, I devised a plan and fixed the big one and will find a way to reattach and brace the little one. I'm pleased to have these beautiful sculpts.
The sculpts are things of gothic grace and...
The sculpts are things of gothic grace and I am very glad to have 2 small winged vampire women plus 1 larger one. Though the shop owner took care in packing them however, 2 out of the three, 1 big, 1 small, arrived with detached wings broken off where it meets the back which is a very narrow, thin spot. I have enough experience in these things to come up with a plan to reattach the wings with a little effort so I'm sure sometime in the near future they'll fly again. It'll be worth it, these figures are beautiful.